English Version
IMF-WB Annual Meetings, A Stepping Stone for RI's Coffee, Tea
11 October 2018 22:04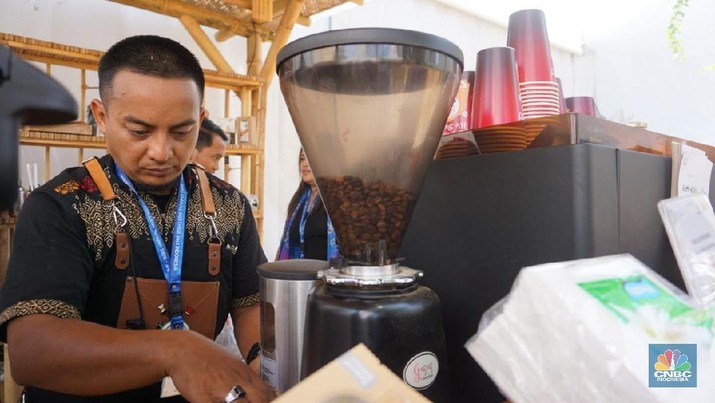 Nusa Dua, Bali, CNBC Indonesia
- As the host of the International Monetary Fund (IMF)-World Bank (WB) Annual Meetings this year, the government did not want to miss a chance to promote two of its most popular exports commodities: coffee and tea.
Not only serving thousands of free cups of coffee freshly brewed by country's best baristas for the meetings' delegates, the government also promoted the commodity through state-owned plantation holding company PT Perkebunan Nusantara (PTPN) at Indonesia Pavilion.
The pavilion is a showcase of Indonesian culture, economy and strategic projects situated in the main campus area of Bali Nusa Dua Convention Center during the meetings.
A small hut made of bamboo stood outside the gallery, facing the stage where cultural performances were usually held. Several posters picturing Java coffee beans were installed in front of it. The booth sold products of PTPN subsidiaries, Sila Tea House and PT Rolas Nusantara Mandiri.
"As a part of State-Owned Enterprises [BUMN], we want to promote our products at Indonesia Pavilion during this meeting so the delegates can experience the true taste of Indonesia's beverages," Yudi Wirantika, Vice President Logistic of PTPN, told CNBC Indonesia, Thursday (11/10/2018).
As many as three kinds of ready-to-drink tea and four of coffee were available at the coffee corner for the delegates to pick. The prices were ranging from Rp 50,000 to Rp 60,000 per item.
The booth even provided one free refill for Sila's Green Tea Fres'o and Levare Black Tea.
Sila Marketing Manager Redha Taufik Ardias said the company started to sell their special-tea grade with a help from state-owned department store Sarinah eight months ago. The company boasted the use of three uppermost tea leaves supplied by plantations in Central and West Java for their products.
"Even for the Silver Needle White Tea, one of our product variants, we only use the first uppermost tea leaves that are yet to bloom, and they are plucked before dawn," he explained, adding that a cup of such tea was sold for Rp 50,000 with no refill at Indonesia Pavilion.
He said the company had sold hundreds of tea cups and collected around Rp 5 million of revenue during Monday (8/10/2018) to Thursday.
Besides ready-to-drink beverages, Sila also sold their tea leaves in pouch and can packages, with prices ranging from Rp 25,000 to Rp 200,000, at the exhibition.
If Sila just made their baby steps to tap the local market, a different story came from PT Rolas Nusantara Mandiri, which served Rollaas Coffee at Indonesia Pavilion.
This company had produced around 1,500 tons of each Arabica and Robusta coffee, in 2017. About 90% of them were exported to every corner of the world, Rolas Director Permadi Prasetya said. Japan and Eropa bought the most Robusta coffee beans from the company, he said, while the biggest part of Arabica coffee beans were shipped to United States.
The company served four kinds of coffee during this event, namely Cold Brew, Cappuccino, Papua V60, and Specialty, for which beans from four plantations in East Java were brewed. Some testers of Papua coffee was served as an initial promotion.
Prasetya said a total of 132 cups of brewed coffee and 100 bottles of cold brew had been sold during the pre-opening of
Indonesia Pavilion
 on Monday, when they cashed in about Rp 6 million in revenue.
Later, on the pavilion's opening day on Tuesday (9/10/2018), they managed to sell 172 cups of brewed coffee and around 200 bottles of cold brew and pocketed Rp 8 million of revenue.
"All this time, most foreigners only know Java as a mere name of coffee. Through Indonesia Pavilion, we want them to taste and to understand the real meaning behind Java Coffee."
(prm/dob)