English Version
Indonesia Pavilion Impresses Foreign Delegates
11 October 2018 23:25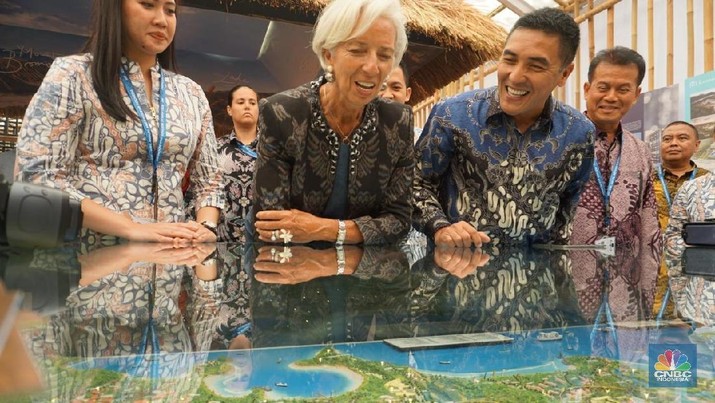 Nusa Dua, Bali, CNBC Indonesia
- Videos and posters of actress Tara Basro wearing various Indonesian traditional attires welcomed visitors as they entered Indonesia Pavilion, a huge white tent made of bamboo in the main area of International Monetary Fund (IMF) - World Bank (WB) Annual Meetings 2018 in Nusa Dua, Bali.
The visitors would look at a big red-and-white replica of Indonesian map hanging on the wall, as well as posters quoting inspirational statements from country's former and present leaders while strolling around the venue decorated with ethnic statues and fabrics.
As many as 35,000 people from 189 countries flocked in Bali Nusa Dua Convention Center to attend one of the largest economic meetings in the world, running from October 8-14.
This is the first time ever for Indonesia to host the meetings. Therefore, it was not a surprise if the government use the moment to boost promotions of national strategic projects, economic progress as well as culture and arts at Indonesia Pavilion.
Sehliselo Mpofu, a delegate from Zimbabwe, was one of the foreigners who was astounded by the bamboo structure of Indonesia Pavilion. She kept gazing at the ceilings and the walls when visited the showcase on Thursday (11/10/2018) morning.
"Indonesian people are very crafty in using natural materials like this. I like the bamboo frames for the roof, [it is] very nice," she told CNBC Indonesia.
Live demos of making traditional crafts like batik, handwoven fabric, and wooden fan also amused her. She even tried to paint a batik on her own.
Azer Vagif Rasulov, a delegate from United States who works as an IT support staff for the World Bank, expressed a similar view.
He told CNBC Indonesia that he was impressed with the building, as well as the arts displayed in it.
"[The building is] very nicely designed [and] feels like a real house, very opened space and wide. [It also has] good, excellent choice and great craftmanship. The details are amazing," he said.
Tourism Minister Arief Yahya praised the architecture of Indonesia Pavilion when he visited the exhibition on Thursday afternoon.
"The architecture is very cool. I have never went to an exhibition with architecture like this. I heard that they built this within 25 days only, truly appreciate it," he said, adding that it already showcase "a complete package of tourism main destinations from Danau Toba to Morotai".
Indonesia Pavilion
 would greet visitors until October 17 at 8 p.m. to allow local residents and regular tourists to visit it after concluding their meetings.
(dob)