US$3,1 B Investment Opportunity Offered at Indonesia Pavilion
08 October 2018 21:08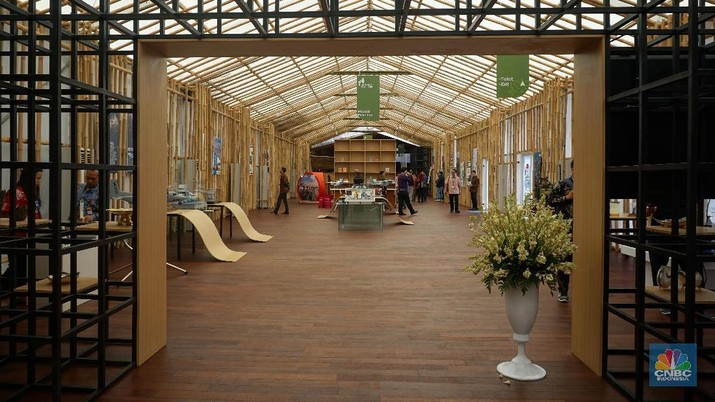 Nusa Dua, Bali, CNBC Indonesia
- The State-Owned Enterprises (SOEs) Ministry showcases various investment opportunities in hotel and tourism sectors at the Indonesia Pavilion during the International Monetary Fund (IMF)-World Bank (WB) Annual Meetings 2018 in Nusa Dua, Bali, on October 8-14.
The value of the projects can reach US$3,6 billion with investment opportunities worth around US$3,1 billion, according to the ministry's data.
The government also tries to amplify the promotion through several offers made during governments, SOEs, and investors meetings on the sidelines of the annual meetings, said Sahala Lumban Gaol, a special staff to the SOEs Ministry, in a statement, Monday (8/10/2018).
"The government always incorporates tourism sector as its priority in its working plan. This is a momentum for us to showcase all of Indonesia's tourism potentials to the world," he said.
At least four main destinations are being the darlings of foreign tourists. They are Raja Ampat in Papua, Bintan Islands, Bali, and Banyuwangi. Other than those, the government is also developing 10 new tourist destinations, namely Lake Toba, Tanjung Kelayang Belitung, Special Economic Zone Mandalika, Bromo Tengger Semeru, Borobudur Temple, Tanjung Lesung, Labuan Bajo, Wakatobi National Park, Morotai, Seribu Islands, and Jakarta Old City.
The ministry also shows off Indonesia's economic achievements and national strategic projects data at Indonesia Pavilion. Along with the infrastructure development progress, government will also display tourism destinations, cultural arts, and traditional crafts.
Several crafters will do live demos during the showcase which will be held from October 8-14. SOEs Minister Rini Soemarno will officially open the exhibition on Tuesday (9/10/2018).
Indonesia Pavilion is situated in the main area of the IMF-WB Annual Meetings in Nusa Dua, Bali. There are several thematic rooms such as BUMN Hall, Workshop Area, Exhibition Area, VIP Lounge and Stage Pavilion/Coffee Shop.
(prm/dob)