Digital Connectivity & the Result of DEWG G20 Discussion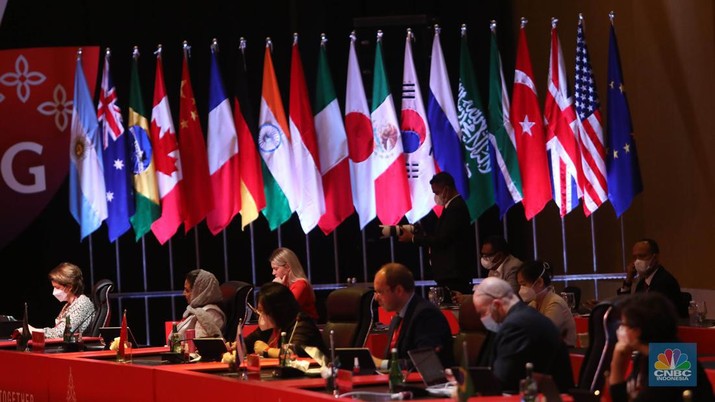 Foto: Menteri Komunikasi dan Informatika RI, Johnny G Plate membuka dan menghadiri Kelompok Kerja Ekonomi Digital Group of Twenty atau Digital Economy Working Group (4th DEWG Meeting) G20 pada 29-30 Agustus 2022 di Hotel Mulia Resort Nusa Dua, Bali , Senin (29/8/2022). (CNBC Indonesia/Muhammad Sabki)
Jakarta, CNBC Indonesia - The G20 Digital Economy Working group (DEWG) has three concrete results discussing priority issues and will be included in The Bali Package document. The three results are digital connectivity and post-covid-19 recovery, digital literacy and digital skills, and cross-border data flows.
"The three priority issues of the digital economy working group have each expanded and some have materialized for almost a year," said minister of Communication and Information Technology Johnny G Plate as quoted from a press released, Tuesday (30/8/2022).
He explained, for the issues of digital connectivity and recovery after covid-19 pandemic, the concept of digital connectivity "people center" has been concluded. This is a form of extension or modification of the "Digital Human Center" that previously existed at the G20 meeting.
In addition, through the Digital Innovation Network (DIN) event which will be held on September 2-4, 2022. The event will open up opportunities for startup business actor between developing countries as it facilitates meeting with capital-owning companies.
"We also mapped out the discussion, building on previous presidential achievement on security in the digital economy, as well as sharing support for some tangible achievements," Johnny said.
Then on priority issues related to digital literacy and digital skills, the G20 members have produced methods for measuring digital skills and digital literacy. Thus, G20 countries will have a unified measurement tool in the future.
By knowing the result of the calculation of the measurements, Johnny continued, G20 countries can cooperate with each other. Especially in order to improve digital skills and digital proficiency in each country's population.
"Measuring digital skills and digital literacy as well as sharing experiences to increase meaningful participation from people," he said.
Finally, on issues related to cross-border data flows, the Ministry of Communication and Informatics in DEWG successfully organized a multi-stakeholder dialogue workshop. In addition, it facilitated various levels of data governance understanding that brought stakeholders together to discuss in depth the way forward.
The activity, according to him, will unite stakeholders in realizing cross-border data operations, which uphold the principles of transparency, fairness, and reciprocity.
"Implementing digital identity is relevant to the part of the digital plan that involves personal data," says Johnny.
It is known that in the fourth DEWG G20 meeting, the delegates will continue the discussion of the draft G20 digital ministerial declaration which is then called The Bali Package document.
The declaration draft will be discussed again for the finalization by the ministers of the G20 digital sector at the G20 digital economy ministers meeting (DEMM) on September 1, 2022
Additional information. DEWG previously completed three meetings and several cross-group meetings to discuss DEWG's three priority issues.
As for the next four days, the Ministry of Communication and Informatics will hold the 4th Digital Economy Working Group (DEWG) G20 meeting followed by the Digital Economy Ministerial Meeting (DEMM) at Mulia Resort, Nusa Dua, Bali.
[Gambas:Video CNBC]

Artikel Selanjutnya
DEWG G20 Discus Opportunities & Challenges of Digitalization
(rah/rah)