The Bali Package Documents Becomes the World's Digital Future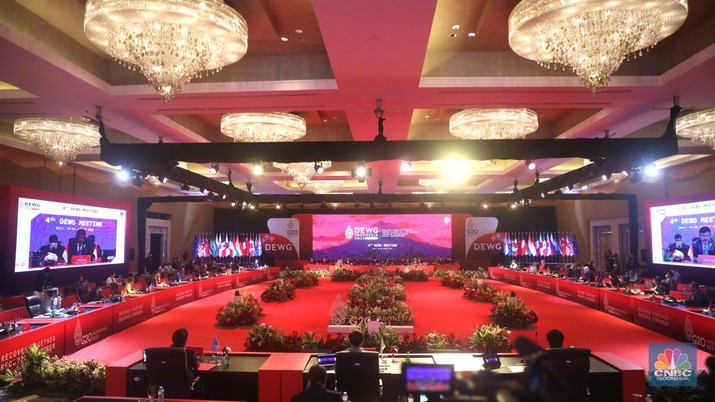 Foto: Menteri Komunikasi dan Informatika RI, Johnny G Plate membuka dan menghadiri Kelompok Kerja Ekonomi Digital Group of Twenty atau Digital Economy Working Group (4th DEWG Meeting) G20 pada 29-30 Agustus 2022 di Hotel Mulia Resort Nusa Dua, Bali , Senin (29/8/2022). (CNBC Indonesia/Muhammad Sabki)
Jakarta, CNBC Indonesia - The Minister of Communication and Informatics, Johnny G Plate, invited delegates at the 4th Digital Economy Working Group (DEWG) G20 Meeting to compile The Bali Package document according to the aspirations of each country.
"The preparation of declarations during the Digital Economy Working Group trial is not only based on the aspirations of the Indonesian Government, but for the digital future of the world," Johnny said in a press release, Tuesday (30/8/2022).
According to him, the alarming reality of the digital gap should be a consideration for the G20 participants in formulating The Bali Package. In addition, what must also be considered is the lack of understanding of literacy skills and digital skills, as well as increasing data leakage.
That way, according to Johnny, the economic value of digitalization and the alignment of data flows across national borders to generate new ideas and innovations become fundamental issues.
"Those are fundamental issues that I hope the discussion will continue in the next presidency," he said.
As the first DEWG forum after the elevation of the Digital Economy Task Force, Johnny stated that there are many opportunities in the digital sector that can be of mutual concern.
"At the same time, we see and know the opportunities that lie ahead, the economic value of digitalization, the alignment of data flows in generating new ideas, and technological innovation. The fact is that DEWG is now the first group after the appointment of the status of the digital economy task force," he explained.
As an information, the Fourth DEWG G20 Meeting was attended by delegates from Australia, Brazil, Canada, China, the European Union, France, Germany, India, Italy, Japan, Mexico, Russia, Saudi Arabia, South Africa, South Korea, Turkiye, the United Kingdom, and the United States. While delegates from Argentina attended virtually.
In addition, there were also invited country delegations including Spain, the Netherlands, Singapore, Rwanda, Cambodia, and the United Arab Emirates (UAE). Then the National Knowledge Partner of the University of Indonesia; Gadjah Mada University, and Padjadjaran University.
There were also representatives from the Coordinating Ministry for Economic Affairs, the Ministry of Foreign Affairs and the National Cyber and Crypto Agency. Meanwhile, representatives from international organizations were present, including the International Telecommunication Union (ITU), United Nations Economic and Social Commissions for Asia and the Pacific (UN- ESCAP), United Nations Conference on Trade and Development (UNCTAD), and Organization for Economic Co-operation and Development (OECD), and Islamic Development Bank (ISDB).
[Gambas:Video CNBC]

Artikel Selanjutnya
DEWG G20 Discus Opportunities & Challenges of Digitalization
(rah/rah)