At DEWG, Minister Johnny Highlights About Digital Divide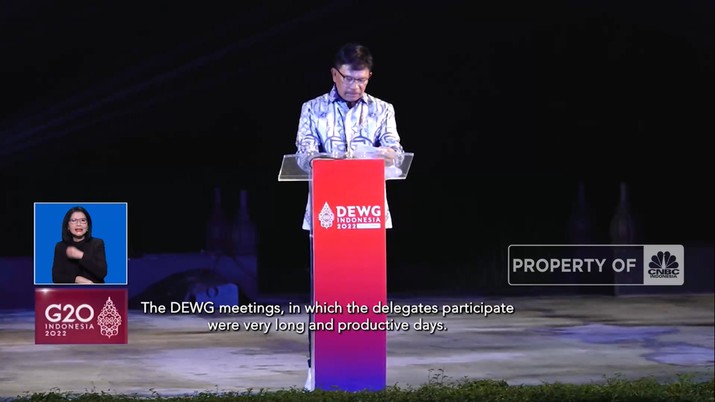 Foto: Kupas Tuntas Kesepakatan dalam DEWG G20 Ke-2 di Yogyakarta (CNBC Indonesia TV)
Yogyakarta, CNBC Indonesia - One of the highlights of the Minister of Communication and Informatics, Johnny G. Plate in the second Digital Economy Working Group (DEWG 20) G20 is regarding the digital divide. According to him, the digital divide is still a challenge
International Communication Union (ITU) data in 2021, shown that 2,9 billion people have never accessed the internet. Meanwhile, Johnny cited from world bank data, that 94 million adults in Indonesia in 2019 still cannot access the internet from their mobile phone.
"Digital divide is still a challenge, even fewer have fixed access to internet broadband. Connectivity problems like that require us at the Ministry of Communication and Informatics, to work harder in providing a stable and strong digital infrastructure," explained by Johnny, quoted on Tuesday (15/7/2022).
One of the effort to provide infrastructure is by rolling out massive digital infrastructure. For example, is with fiber optic cable both on land and sea.
"With fiber optic cable both on land and sea, some high-throughput satellite, and thousands of Base Transceiver Station deployment," Quoted Johnny.
This condition become one of the discussion considerations in DEWG Forum about the effort to bridge the digital divide. It is with stronger collaboration to push massive digital infrastructure deployment between G20 country and the world.
Johnny also encourage an exchange of view about digital security practices. That way the digital transformation in each countries can run well.
"We also try to exchange views about digital security practices as key factor to support business sustainability, enable business matchmaking in G20 Digital Innovation Network, and shown digital transformation milestone of each countries, also facilitate a shared learning and collaboration between G20 member, through Digital Transformation Expo," he explained.
The second session of DEWG 20 is held in Yogyakarta and was conducted in a hybrid way with the present of 15 member of G20 in person. The event is conducted by DEWG chair, Mira Tayyiba, and the special staff of the Ministry of Communication and Informatics for digital policies and Human Resource and alternate DEWG chair, Dedy Permadi.
[Gambas:Video CNBC]

Artikel Selanjutnya
Cross-Border Data Flow is Discussed at the Third G20 DEWG
(rah/rah)